A shed peeks above the corn line on a family farm near Sylvania, Ohio. With Ohio widely considered a swing state, politicians from both parties are campaigning hard to influence voters in small towns as the 2012 election draws nearer.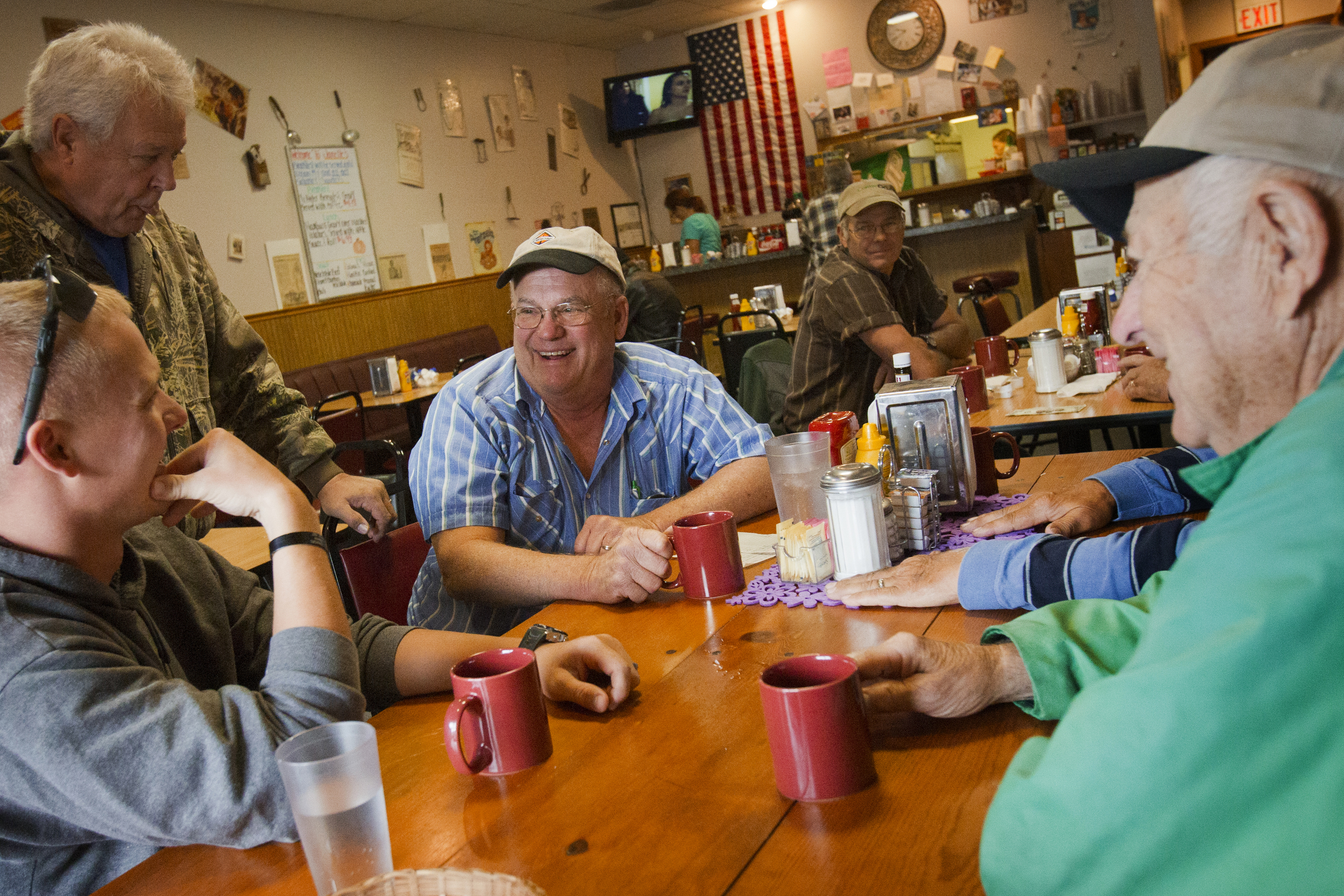 At Janelle's Diner in Pemberville, Jim Witker, center, revels in the welcome his fellow dinners give his son, Arik, left, who is home from his latest military tour of duty in Afghanistan. Jim Witker says he feels neither major political party is a good representative of working people and small businesses.
The Countyline Co-Op is fully staffed during harvest season. The Countyline Co-Op operates a grain elevator in Pemberville, drawing farmers from the area.
Jack Eisenhour puts some of the blame on the Obama administration for the loss of the new-vehicle portion of his longtime family dealership in Pemberville. But the registered Republican says he's no Mitt Romney fan either. Mr. Eisenhour continues to get by running a repair and resell shop, but he says he's worried about the prospects for the next generation of his family.
Rebecca Acosta, right, sweeps the front porch of her home in Pemberville as her children play in the yard. Though she said that she, herself, benefits from from some of the policies aimed at helping the poor, she was strongly against increasing taxes on the wealthy to help fund those policies.
A customer browses through Beeker's General Store, a longtime fixture in downtown Pemverville. As election day nears residents are weighing the issues that matter to them and which candidates for whom to vote.
arcadia16p
Carol Kimble, 64, of Findlay, holds her 10 month-old great-grandson Trayvon at he house her daughter rents in Arcadia. Kimble, who is from Arcadia originally, says she won't be voting in the upcoming November election. "It's the rich that seem to get all the help," she said. "They don't seem to be doing anything for the people who need help." With Ohio widely considered a swing state, politicians from both parties are campaigning hard to influence voters in small towns as the November election draws nearer.
arcadia16p
Members of the Arcadia football team head back to the field after a break in practice. The Arcadia elementary, middle and high school grades are housed in one building. With 71 total faculty and staff, the schools are the largest employer in the town of about 500 residents. Several local residents said they had moved to Arcadia or stayed in town for the school, which has so many applications for open enrollment they must turn prospective students away.
A local boy lugs a pumpkin back to his mother's truck from the Abke property just outside Pemberville. The Abke's get by on their family farm by holding day jobs and selling seasonal produce. Anyone who purchases their produce is on the honor system; they're asked to leave money in a box near the door.
Sydnie Abke, 10, stands barefoot on a bucket in the garage where her father, Russ, stores the family's farm equipment on their property near Pemberville.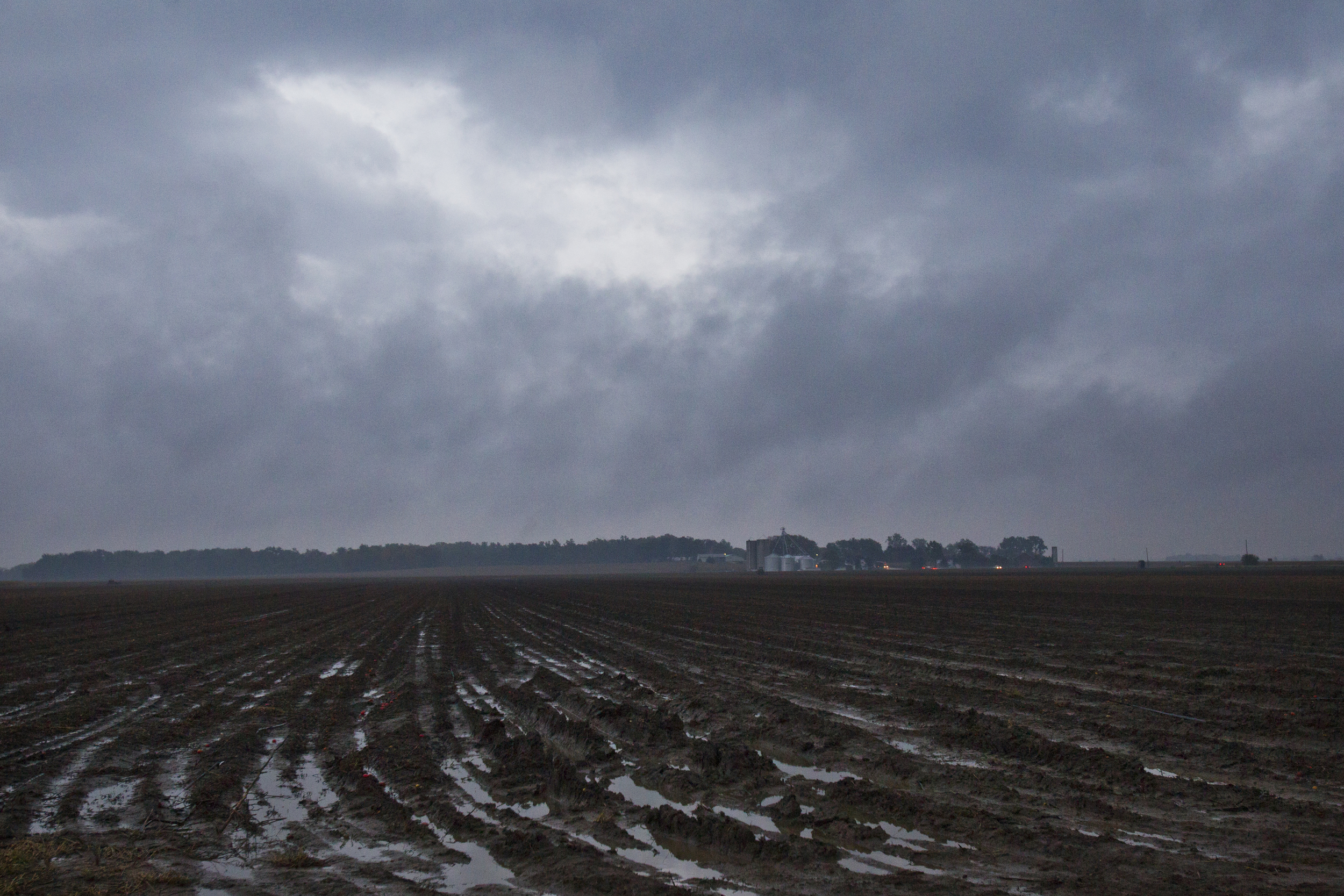 Large tracts of farmland near Pemberville have already been cleared and plowed in the fall harvest. The small farming community of about 1,500 people are finding themselves in the center of the national election.
Pemberville resident Marcy Abke watches the first presidential debate with her daughter, Sydnie, 10. Mrs. Abke, whose concerns range from the national debt to affordability of college for her three children, is undecided on the election.