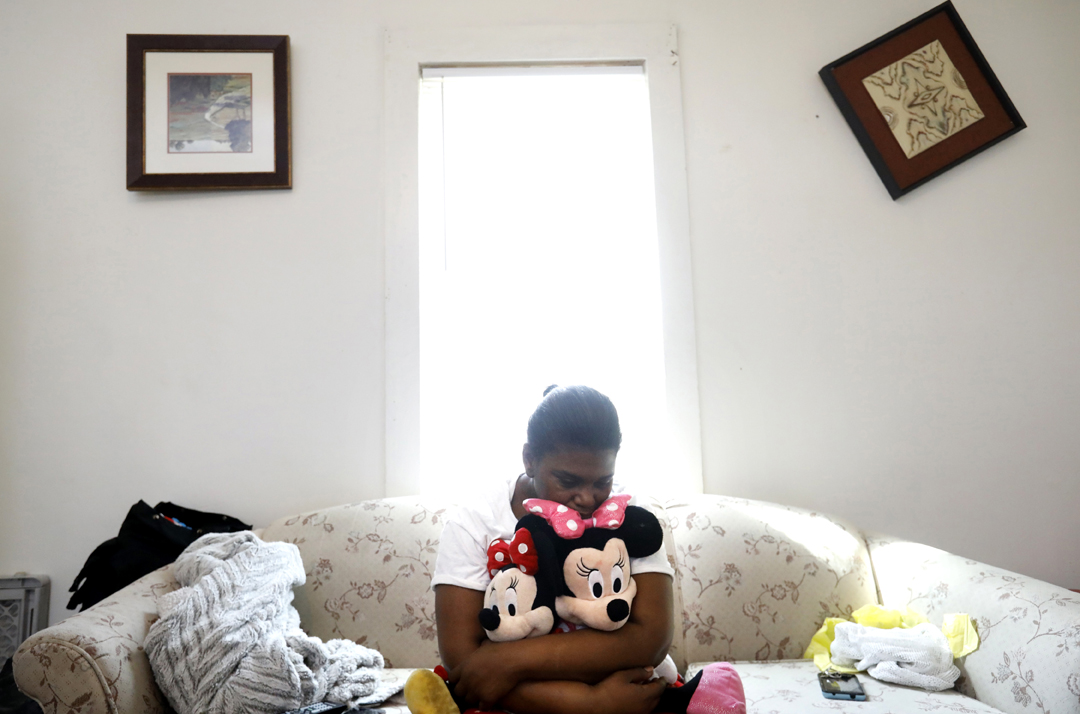 "She was our oxygen," Kendra Hunter, 40, said as she clutched Minnie Mouse dolls belonging to her granddaughter Serenity Hunter, 1, who died April 4, 2018, after allegedly being hit and thrown into the couch, pictured, at her home in Toledo. Joshua Herron, 30, the boyfriend of Serenity's mother, is charged with the murder. Prosecutors allege Herron was responsible for Serenity's fatal injures when he was watching the toddler alone on Easter Sunday. Serenity's homicide is the third case in 2018 where a mother's partner is charged with killing a young child.
"I just wish I could see her again and tell her that I thank you for everything you do for us," Litzy Morales, 17, said of her mother, who was detained by U.S. Immigration and Customs Enforcement (ICE) during a surprise raid Tuesday, June 5, 2018, at the Castalia location of Corso's Flower & Garden Center. ICE agents arrested 114 people suspected of working and residing the country illegally, including Litzy's mother, at two of Cross's locations. Litzy was on her second day of working alongside her mother and was present for the raid. She cried as she recounted first being detained by ICE on site, then seeing her mother loaded into a bus by the agency.
Relonna Alexander, 7, inspects her new bunk bed after it was delivered and assembled by volunteers from Extreme Results gym along with other donated furniture Friday, December 23, 2016, at Birmingham Terrace in East Toledo. Vincent Ceniceros, CEO of the gym, grew up in Birmingham Terrace and wanted to donate to someone at the complex for Christmas. He reached out to Rosalyn Koontz, whose neighbors know her as Ms. Toni Warren, a longtime resident of the complex to find a family in need. Ms. Koontz thought of Nakesha Phillips and her five children, including Relonna, who had been living in the complex for five months without any real furniture. Now, her children will have beds, a table to eat Christmas dinner and a couch to join their Christmas tree.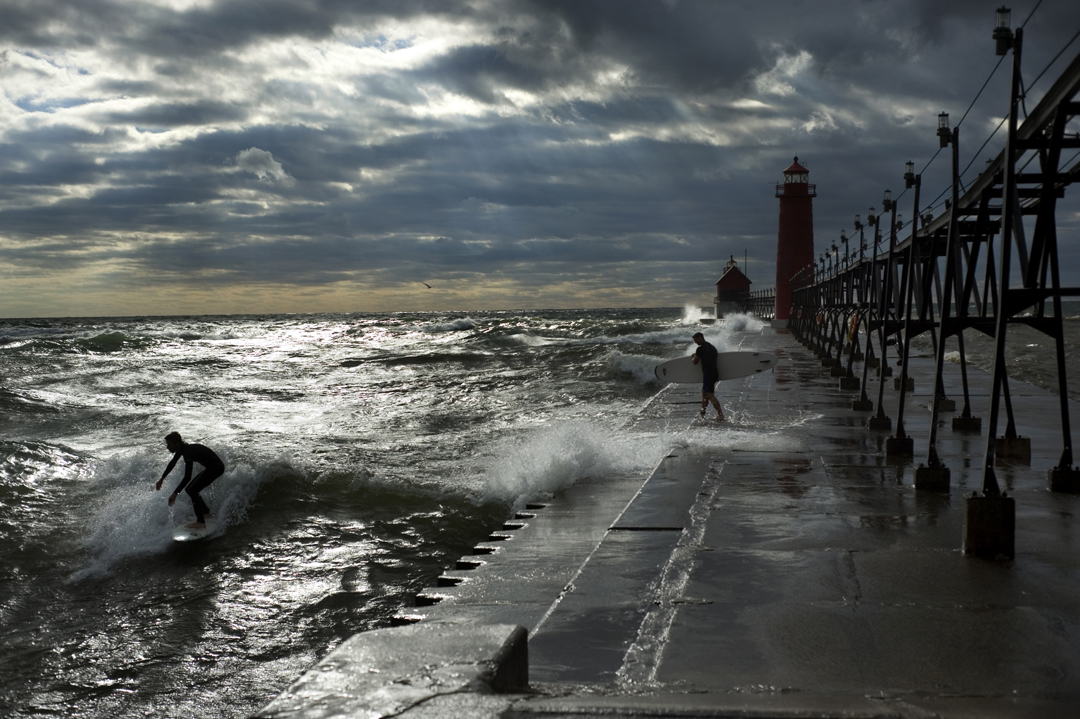 Surfers take advantage of high waves generated by a storm over Lake Michigan to hit the waves at Grand Haven State Park. Surfers who brave the great lakes often take to the water when the waves are higher during the winter months.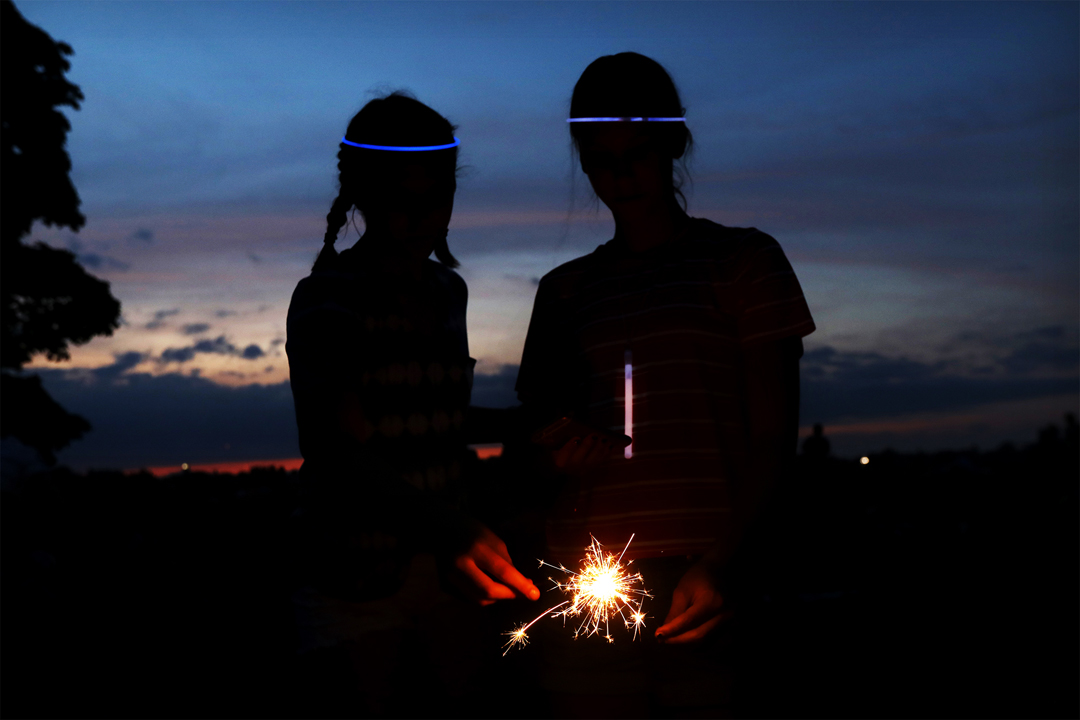 Maddie O'Dell, 13, left, and Sophie Twigg, 13, light their sparklers before the start of this year's fireworks display Monday, July 3, 2017, at Fort Meigs in Perrysburg. Thousands of area residents turned out on both sides of the Maumee River to watch the show, which included carnival rides and food at Fort Megs. The third of July is Maddie's birthday.
Karmero Sims, center, dances to music playing as other children jump into the newly-opened Roosevelt Pool during the seventh annual Smith Fest June 16, 2018, in Smith Park in Toledo. The festival featured horse rides from the Toledo Horsemen Club, a number of sports lessons, the opening of Roosevelt Pool, and a bike give-away.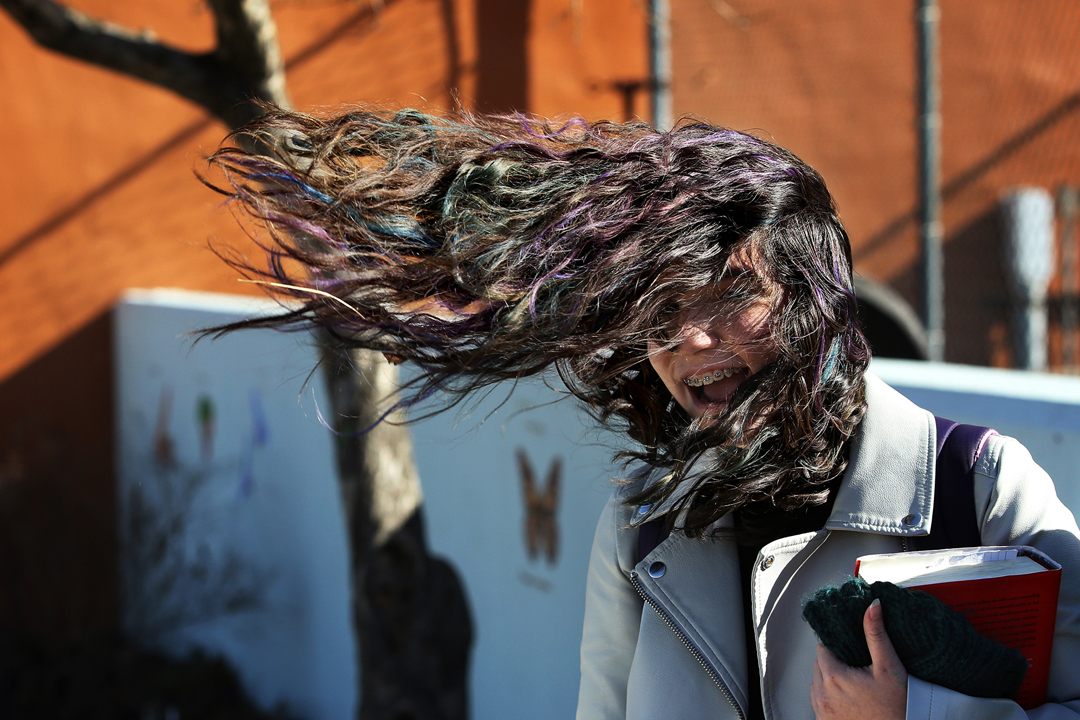 "I can't get my hair back!" Mckayla Mejia, 15, laughed as she checked her phone after school Wednesday, March 8, 2017, in central Toledo. High winds swept through the greater Toledo area Thursday.
Devin Whaley, 10, left, D.J. Ferrell, 9, center, and Zyaire Whaley, 6, play together on their block in South Toledo. The kids had forwent their squirt guns even though the City of Toledo had declared the tap water safe to drink earlier Monday, August 4, 2014. Toledo's water was declared unsafe for consumption in an emergency after officials detected heightened levels of a toxic algae byproduct in the water. Though the water was declared safe to drink, many local residents remain skeptical. D.J.'s mother, Krystalynn Ferrell, said she didn't trust the water just yet. "I'm pregnant, so I'm not taking any chances," she said.
Brandy Nelsey, of West Branch, nuzzles Prince, her eight-year-old Tennessee Walker mix, after showing him to more than forty fifth graders Monday morning at Springport Elementary. Nelsey and her sister Ashley are two weeks into a ten state horse back ride from Michigan to Texas. The women are looking to raise money for the Church of the Nazarene's service project, Horseback for Haiti. The sisters are hoping to raise $15,000 to pay for the installation of three wells, which cost $5,000 each, that will be installed in church's in Haiti.
Workers weld "razorback" pieces inside the hold of the Lake Freighter John J. Boland as she is docked alongside other ships for repairs and modifications Wednesday, March 21, 2018, at the at H Hansen Industries slips, which they rent from the Toledo-Lucas County Port Authority. About a dozen large cargo freighters are docked at the company's yard to undergo repairs while the Great Lakes remain covered in ice. The razorbacks are raised metal pieces that help the cargo, like coal or iron ore, move more easily during loading and unloading.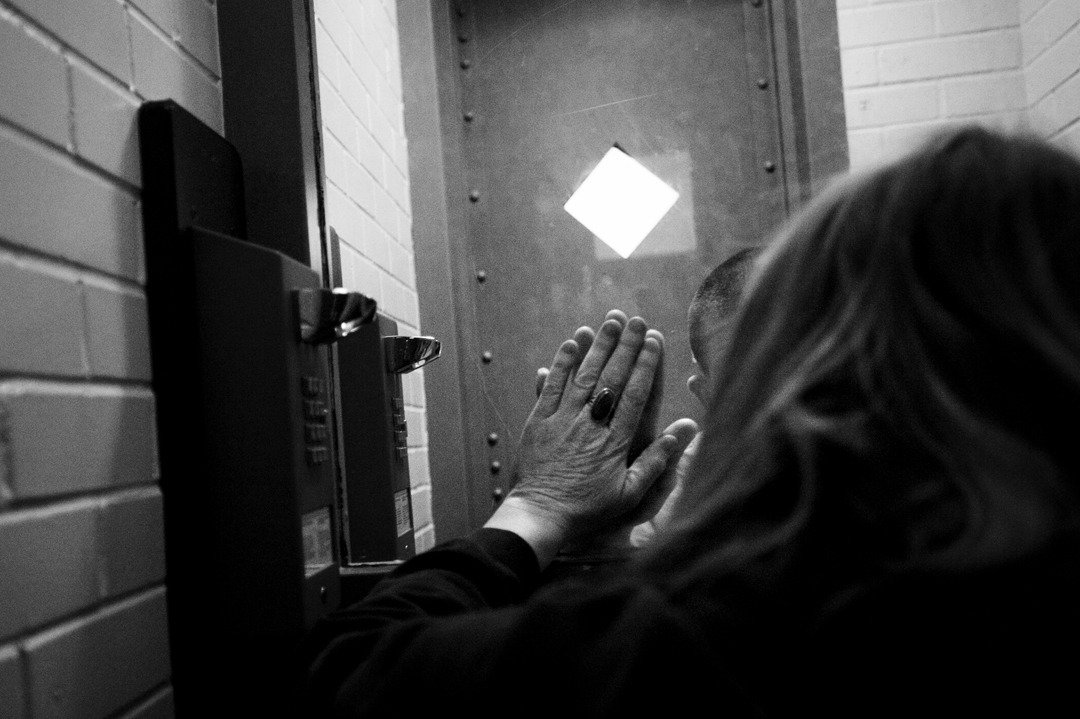 Gail Hammett holds her hand up to the glass in the Jackson County Jail on W. Wesley Street to match her son, James, who also raised his hand. Gail has been walking about two miles each way every Thursday since August to spend 15 minutes in county lockup visitation with her son. James Hammett was later sentenced to 19 to 40 years in prison after pleading guilty to first-degree home invasion, felonious assault and two felony weapons violations.
"That's my baby," a woman sobs, left, as another woman cries out, "That's my brother," while holding one another in the front yard as Toledo police investigate a shooting Tuesday, October 10, 2017, at 729 Brighton Ave. in South Toledo. Toledo police spokesman Sgt. Kevan Toney said an 18-year-old man and 18-year-old woman had been pronounced dead after the shooting. Police later identified the victims as Gregory Stone and Deiyana Porter, who were shot while in a car parked behind the house.
Toledo firefighters battle a blaze August 18, 2018, at Twin Oaks Bowling Alley in Toledo after the fire broke out in the late afternoon. Toledo Fire Pvt. Sterling Rahe, a department spokesman, said no injuries were reported but that the historic bowling alley was a total loss.
Torice Jackson, 3, clings to his mother Brooklyn Ruiz, as she talks with other mourners while Toledo Police investigate a shooting death that occurred in the early afternoon of May 17, 2018, on Highland Avenue near North Detroit Avenue in Toledo. Police dispatch confirmed officers responded at 12:42 p.m. for calls of a person shot. Ms. Ruiz said she knew the victim and his family well.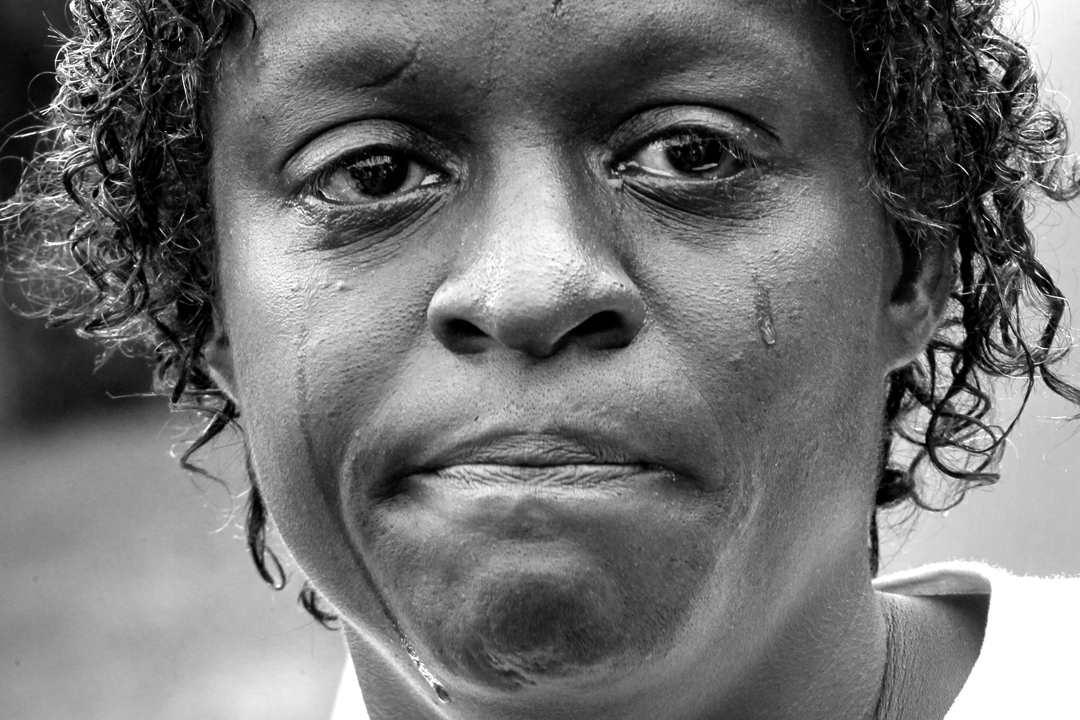 "I feel like I'm in a dream, like I'm going to wake up any time," Lasandra Lucas said. Lucas' granddaughters, Keondra, 1, and Leondra Hooks, 2, were shot as they slept in their great-grandmother's house Friday in Moody Manor. Keondra died as a result of her wound, though Leondra remains at the hospital in critical condition.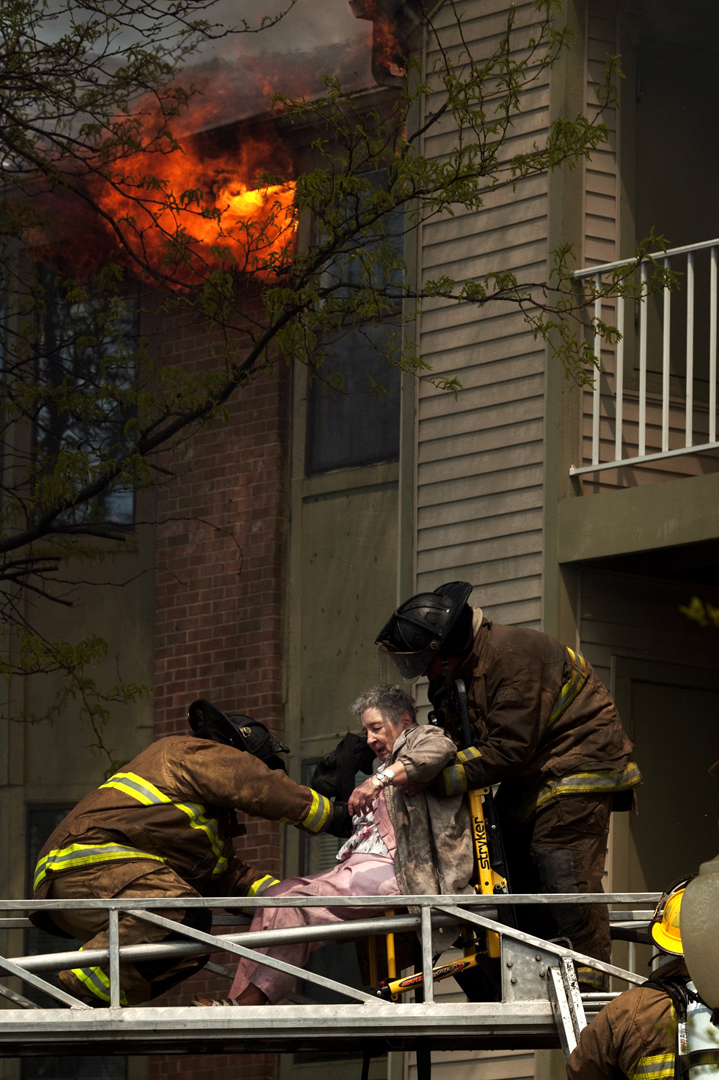 Evelyn Mackey, 91, is hoisted off a ladder as her apartment building burned behind her Sunday afternoon at Rosehaven Manor Retirement Living Community off of Atherton Road in Flint. The cause of the fire is under investigation. Though no fatalities were reported, ten people were injured, the worst with second-degree burns.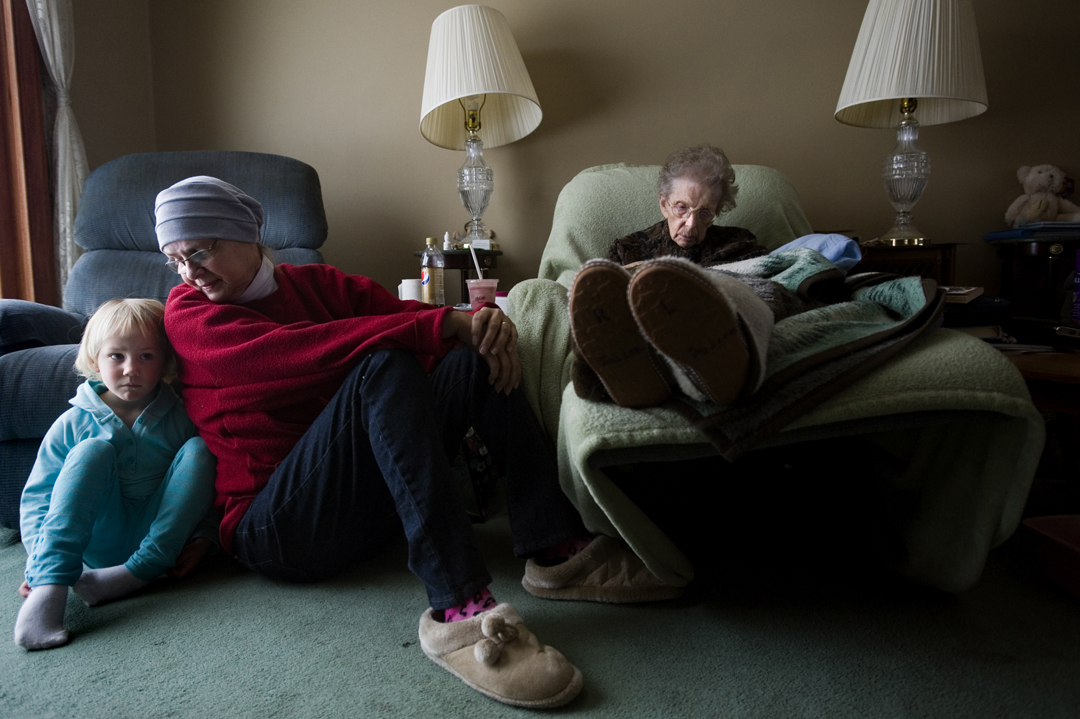 Jan Duke, center, has a word with her granddaughter, Mira, 4, in between a conversation with her mother, Mary Miller, 91, at her home in Leoni Township. Since being diagnosed with stage 4 pancreatic cancer on her grand daughter's wedding day last October, Duke has been working on spending as much of her remaining time as possible with her large family.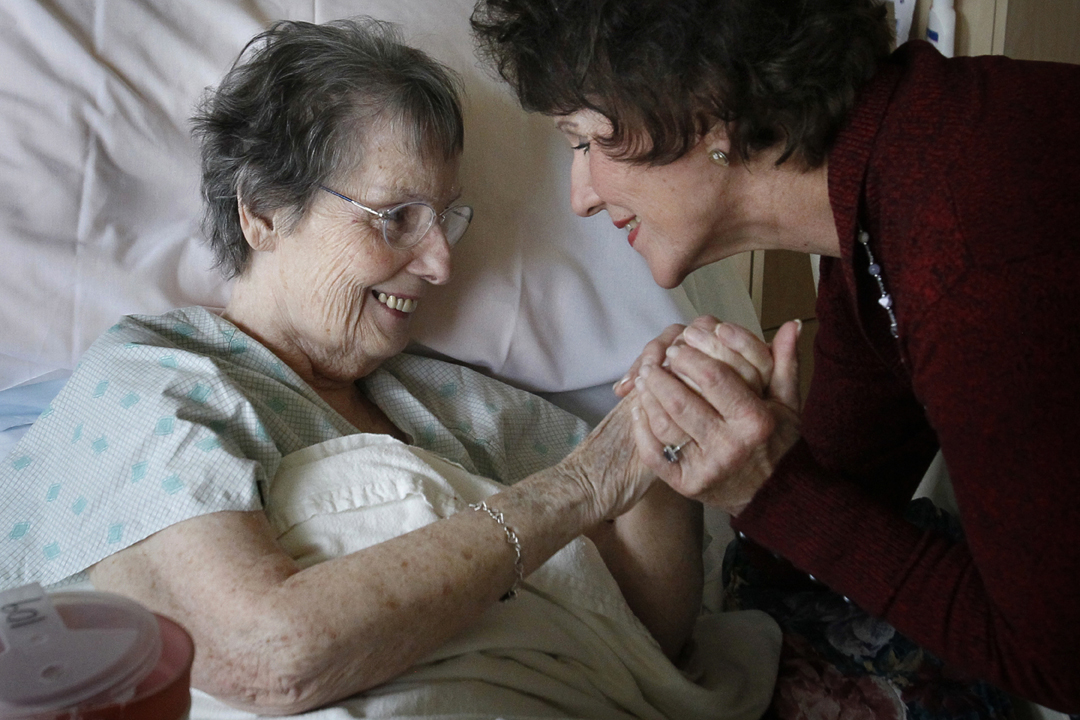 "Each room you go into you enter into another story," Joyce Rimmelin, right, said. Rimmelin embraced Claire Campbell, 82, on her volunteer rounds at ProMedica's Ebeid Hospice Residence in Sylvania. Rimmelin has been a believer in hospice care for many years. After the death of her husband in hospice at Ebeid House, Rimmelin decided to continue visiting and volunteering with staff and patients. "For that brief period of time, with not having any family of my own, they become my family," she said. "The best days of my week are the days that I am present in-patient unit."
Raelyn Fenton Gogol, 12, holds her soon-to-be uncle Isaac, 1, who is blind, as he feels her face while their extended family visits together during a weekly dinner at the home of Kriste and Jeff Little in Walbridge. The Little's have been foster parents for more than 20 years and have adopted several of their foster children. In total, 10 of their kids live in the house right now, though Kriste says she doesn't differentiate between those whom she and Jeff have legally adopted and those who are staying with them as fosters. Kriste and Jeff are in the process of adopting Isaac and his two triplet brothers Elijah and Isaiah, each of whom have medical issues stemming from their premature birth and in utero drug exposure.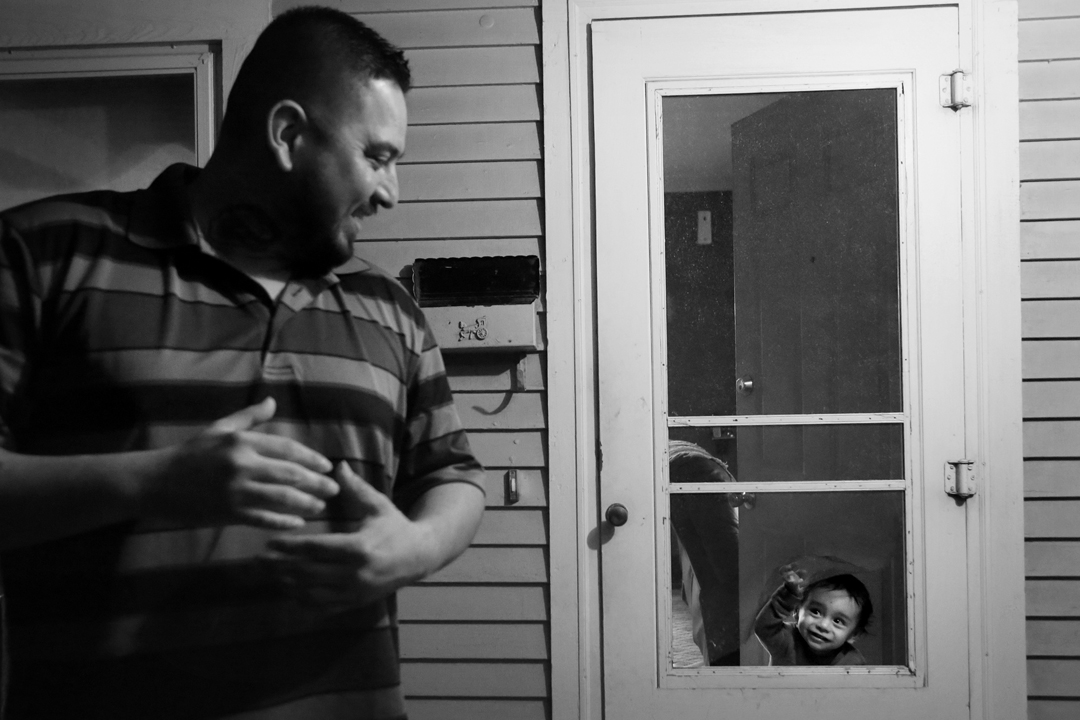 Rojelio Sanchez, left, smiles back as his two-year-old son Rojelio III, peers through a hole in the screen door at the family's home in Napoleon. Since being released from prison after serving 11 years for attempted murder, Rojelio has made it his goal to provide a better life for his family. He and his wife Rebecca recently relocated their family of six from North Toledo to Napoleon. Sanchez works as the manager of Evergreen Seed Supply, where he does everything from managing the warehouse, to administrative work to truck driving.
Andrew Troy of Durst, left, rests in the shade with his daughters Samantha, 8, center and Lydia, 11, near their show Duroc Gilt swine July 28, 2018, at the Ohio State Fair in Columbus. Among sundry attractions, the fair features rides, food, agricultural expos, as well as arts and crafts.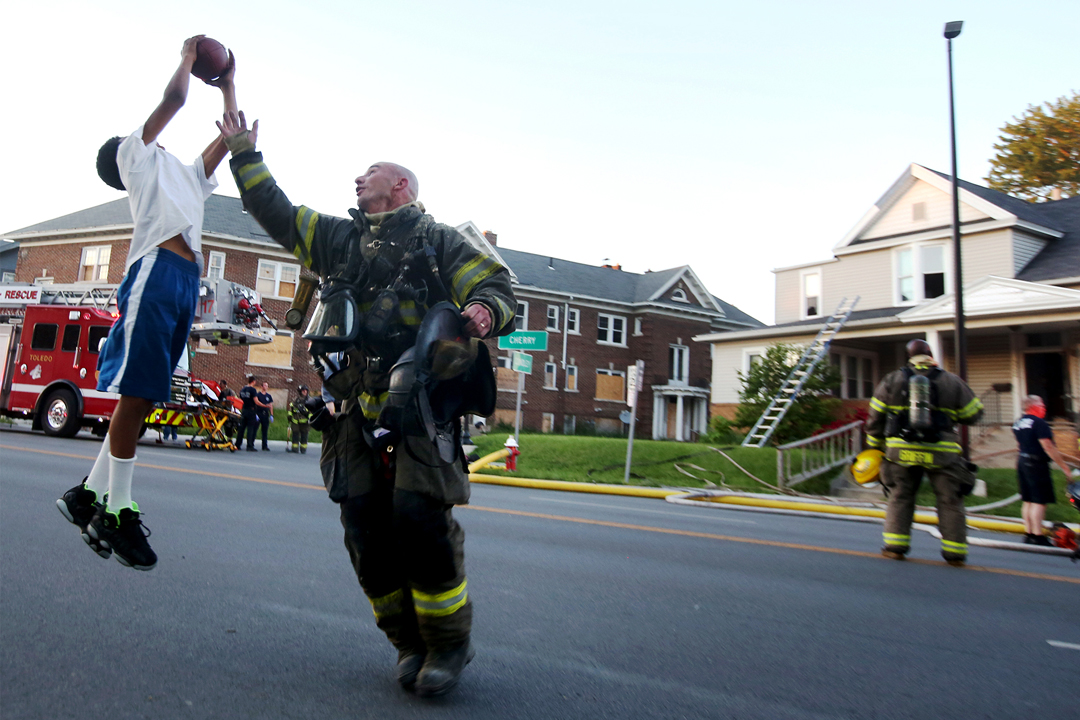 Lt. Pete Traver can't cover Tabari Triplett, 11, as he plays football with some friends from the neighborhood Monday, June 5, 2017, after Toledo firefighters had extinguished a blaze at a house on Cherry Street in Toledo. Battalion Chief Brent Wettle said the fire was reported at about 8:15 p.m. Monday evening in the 3300 block of Cherry Street, and caused an estimated $50,000 in damage. No injures were reported and the fire was under control within half an hour. The Red Cross was contacted to provide aid to seven residents of the house.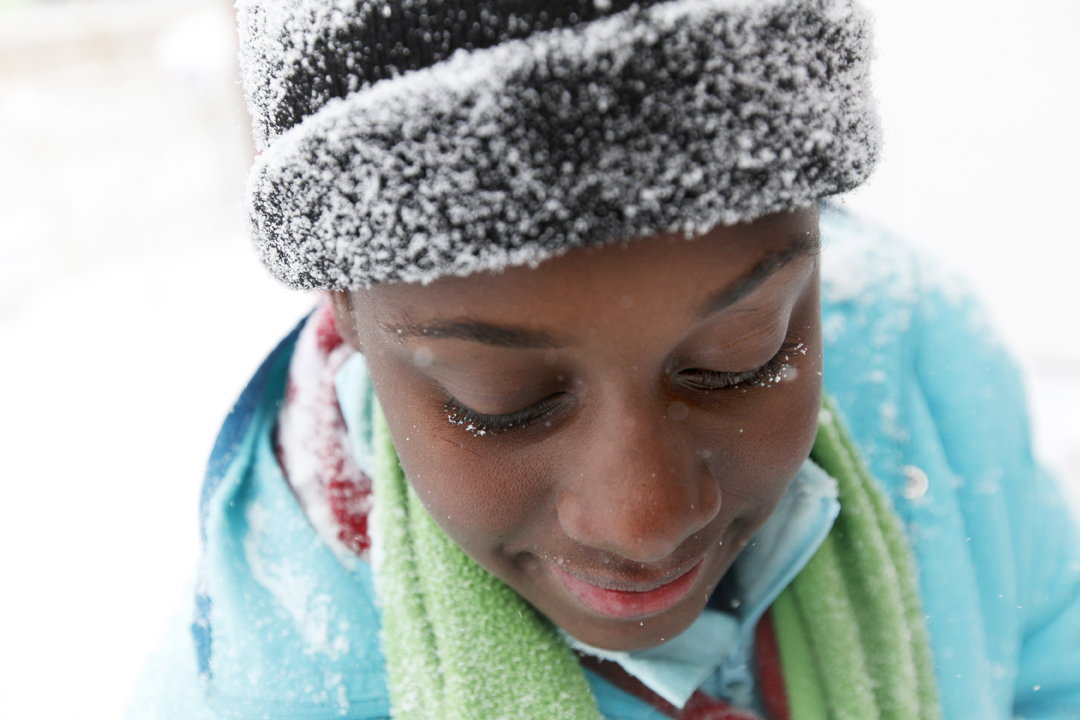 Latara Walker, 12, lends her shovel to the effort to clear the driveway of her cousin's home as falling snow gathers on her eyelids in West Toledo. Snow fall from early Wednesday, Jan. 1, 2014, through 1 p.m. of Thursday, Jan. 2, 2014, totaled 9.1 inches. Snowfall throughout the end of 2013 and beginning of 2014 broke numerous local records.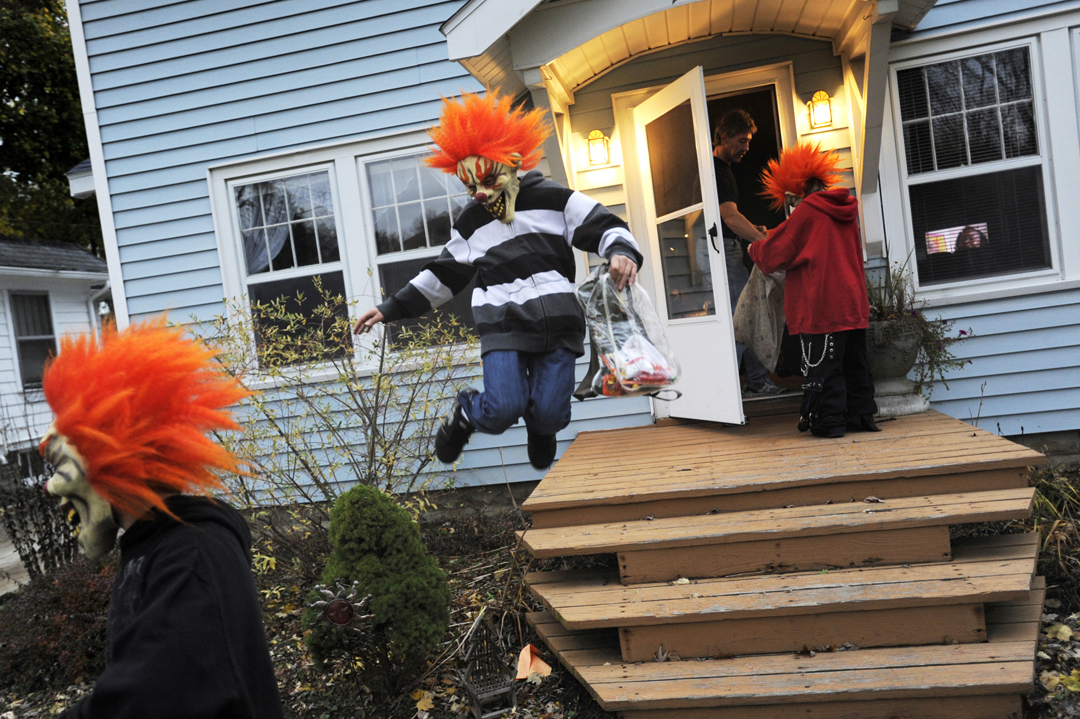 Chris, 14, and Nikolus Johnston, 12, center, make the trick-or-treat rounds with their friend Jared Dionne, 13, right, on Halloween in Jackson. The three are dressed as Juggalos, as the fans of the music group Insane Clown Posse are known. "We're all Juggalos." Dionne said, adding, "Well, mostly just me, but them too."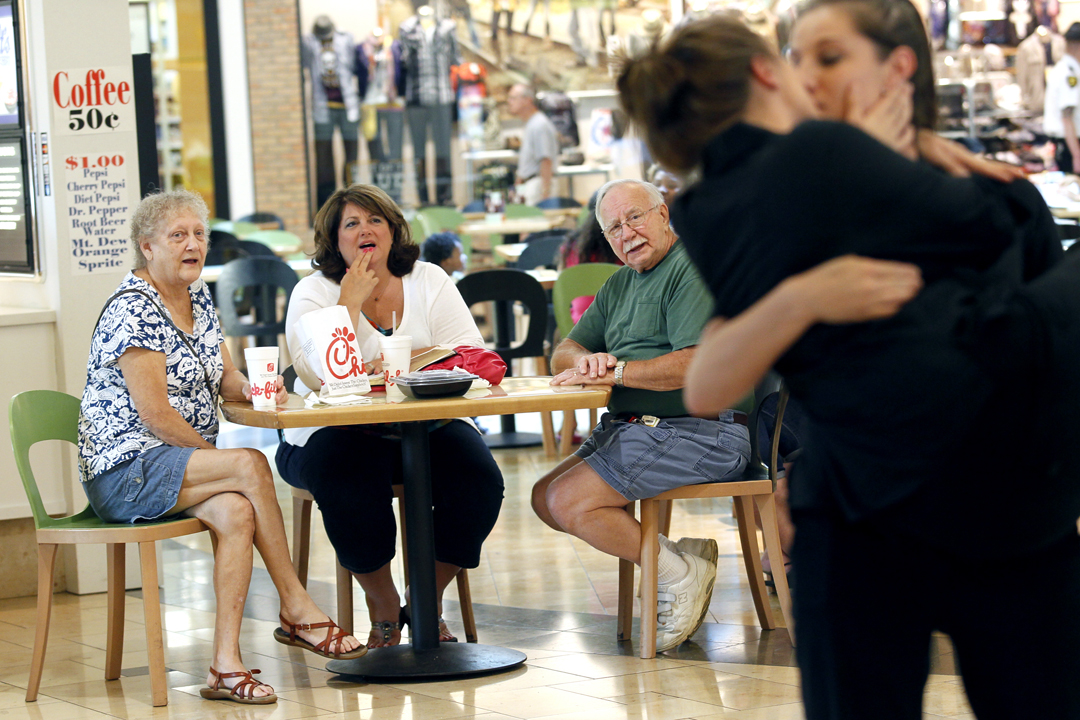 Wanda Flory, of Swanton, center, watches with Terry, left, and her husband Richard, center right, who declined to give their last name, as Thea Grabiec, right, kisses Sarah Shovan, at the Westfield Franklin Park Mall in Toledo. Graviec and Shovan were participating in "National Same Sex Kiss Day at Chick-fil-A," a protest staged in response to Wednesday's "Chick-fil-A Appreciation Day." Flory, who had waited in line for three hours on Wednesday to purchase Chick-fil-A in solidarity with President Dan Cathy's comment that his company is supportive of, "the Biblical definition of the family unit," said her support was about free speech. "It isn't an issue over homosexuals versus non-homosexuals," she said. "He's a citizen of his country and has the right to free speech."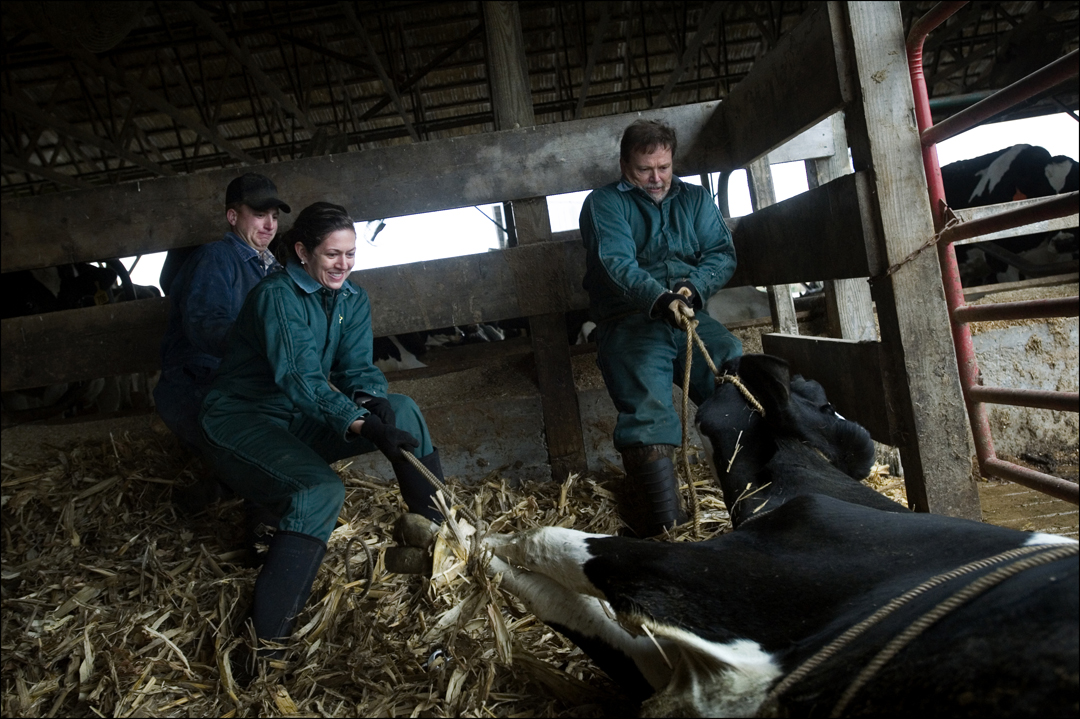 Bruce Burkett, right, and Alyssa Wilson, a veterinarian technician, pull a sick cow into position for surgery. "I figured I'd be a large animal vet all my life," said Bruce, one of two veterinarians at Somerset Animal Hospital. "It was a profession I could stay in touch with agriculture through." But he said large-animal work now only makes up 15 percent of his business. Mennonite farmer Mervin Weber, background, owns this cow.
Gavin Boggs, 11, left, helps his brother Zachary, 9, with his iPad game "Clash of Clans" at the family's home in Rossford. Gavin was diagnosed last year with a rare form of bone cancer called localized Ewing's Sarcoma. Since then he has undergone weeks of chemo treatment and surgery to replace the humerus bone in his right arm. The brothers have become closer during Gavin's illness; he was unable to leave the house or see many other children for months on end.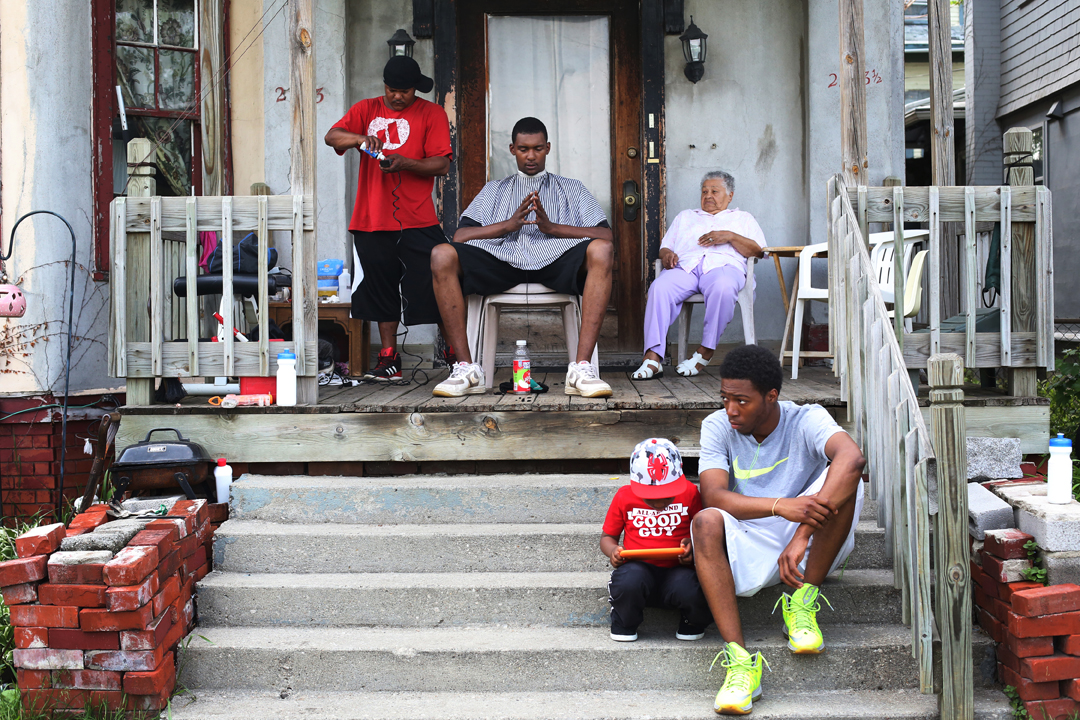 Abayomi Miller, left, gets his clippers ready to cut hair for his neighbor Jason Johnson, center, on Miller's front porch Wednesday, May 21, 2014 in North Toledo. With temperatures climbing into the low 80's, Darren McCadney, right, and his son Zavyn, 4, were also out in the sunshine. Mr. Miller said he often cuts hair for his family and neighbors.