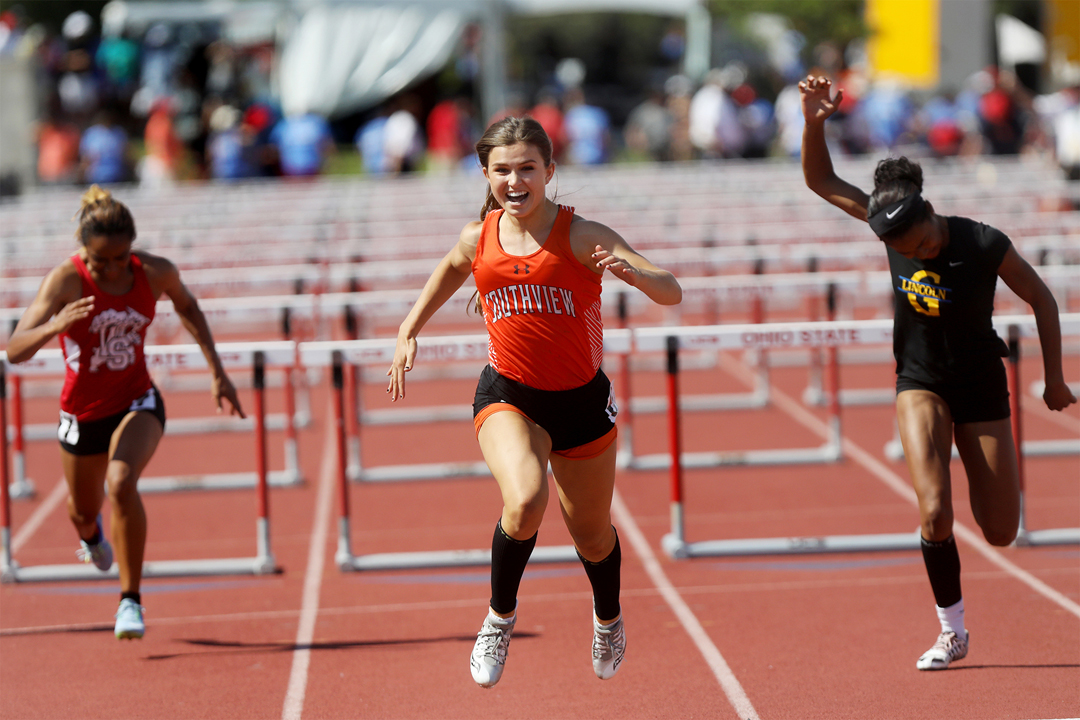 Southview's Lauren Micham smiles as she crosses the finish line to win the Division I 100 meter hurdles at the OHSAA 43d Annual Girls State Track and Field Tournament Saturday, June 3, 2017, at Jesse Owens Memorial Stadium in Columbus. Her time of 13.66 seconds broke the stadium record and put her in second place for the all-time state record in all divisions.
Rogers' Tanaziah Hines, center left, and Tasya Gant, center, right, embrace as their teammates celebrate after the Rams beat Gilmour Academy in the Saturday, March 17, 2018, OHSAA Division II state championship game at Value City Arena in Columbus. Rogers beat Gilmour Academy, 51-37, to win their first state championship.
The sun pushes through the clouds as the Maverick, owned by Mark Keesey, heads toward the start line with the JAM C class at the President's Trophy race Friday, June 8, 2018, in Lake Erie north of Toledo. Sailboats in three races, the Mills Trophy Course, the Governor's Cup Course, and the President's Trophy Course, began at the same place and will end at Put-in-Bay in the Erie Islands.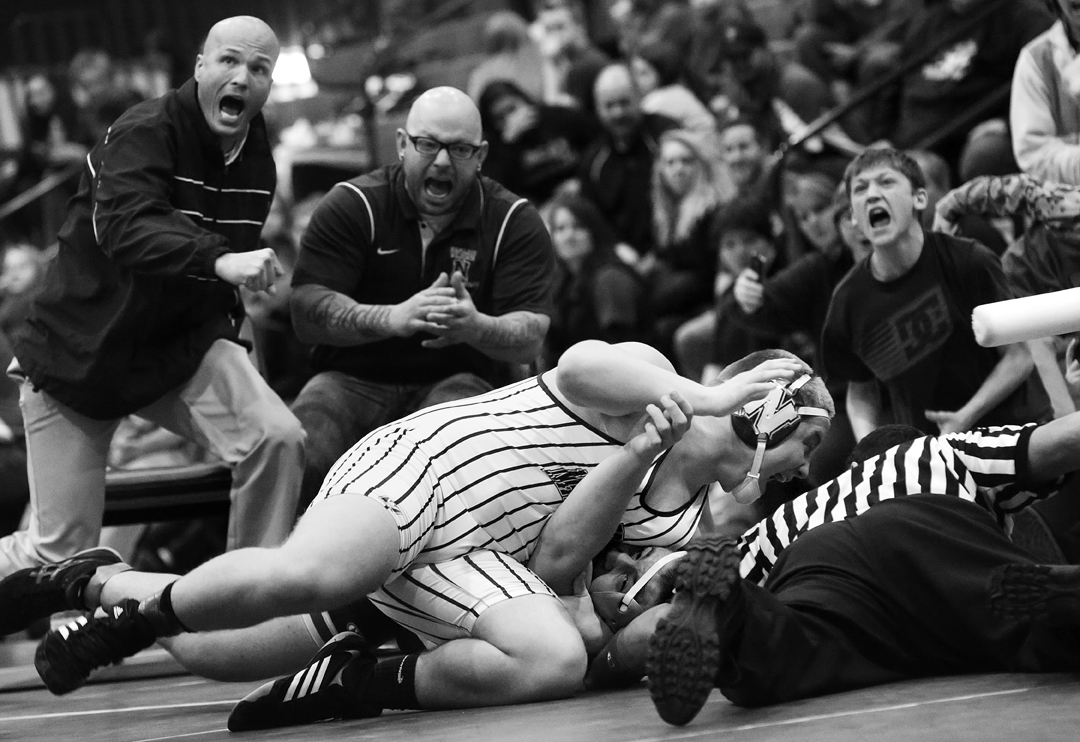 Napoleon's Andrew Pettit, center, his coaches and supporters cheer together as Pettit pins Maumee's Brandon Phillips during the 220 pound weight class match at the Saturday, February 7, 2015, Northern Lakes League Championship meet at Springfield high school.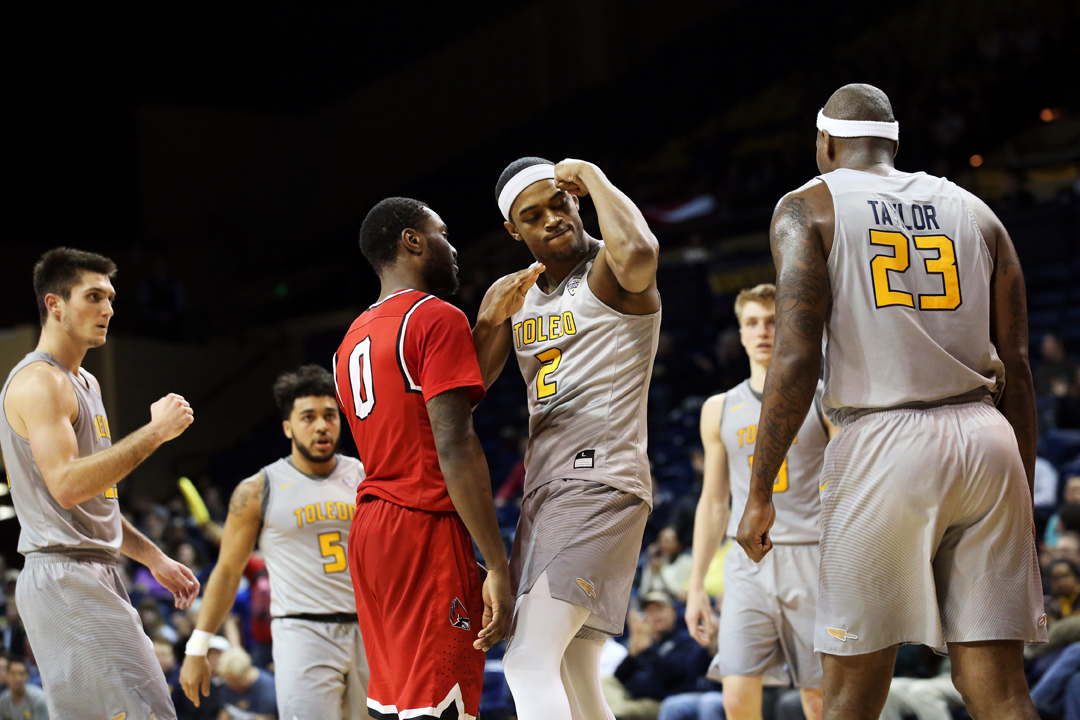 Toledo's Taylor Adway (2) reacts after being fouled but sinking his shot during the second half of the Tuesday, February 28, 2017, men's basketball match up against Ball State at the University of Toledo's Savage Arena. Ball State won, 82-74.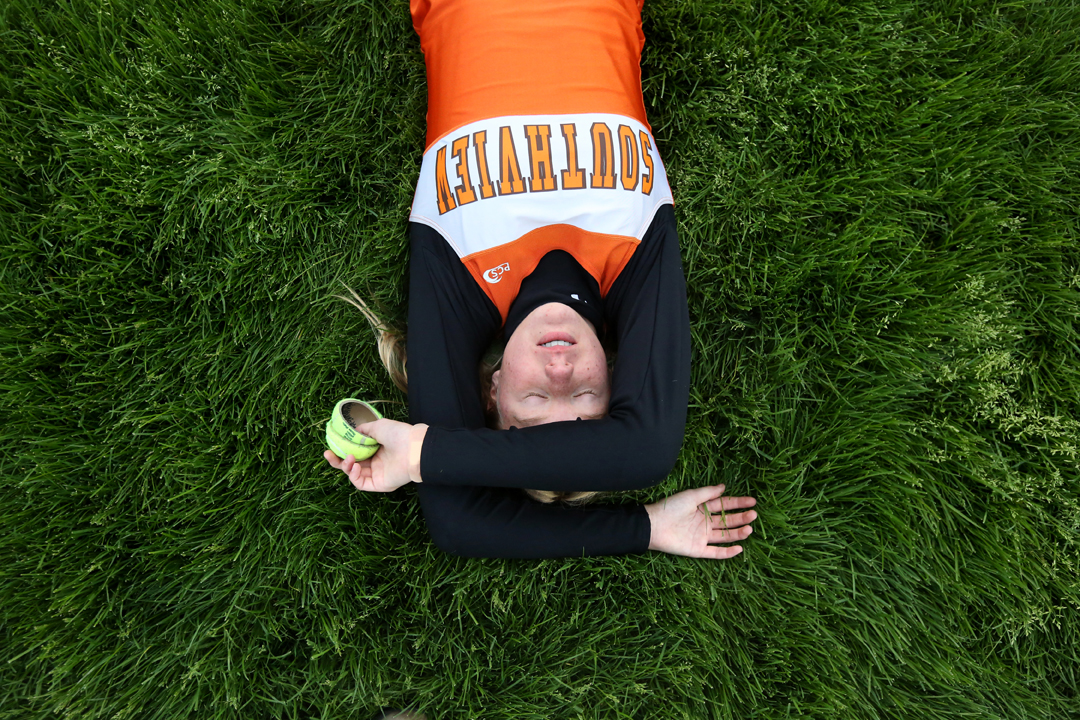 Southview's freshman Helen Waldie catches her breath after running with three other teammates in the 4 by 200 meter relay during the Northern Lakes League track and field championship meet at Maumee High School. Southview's team won the relay. The tennis ball halves Waldie held are used to mark runner position on the track.
Michigan's Chris Evans (12) leaps over the Michigan State defense on the run in the first half of the Saturday, October 7, 2017, football match up at the Big House in Ann Arbor. Michigan State won, 14-10.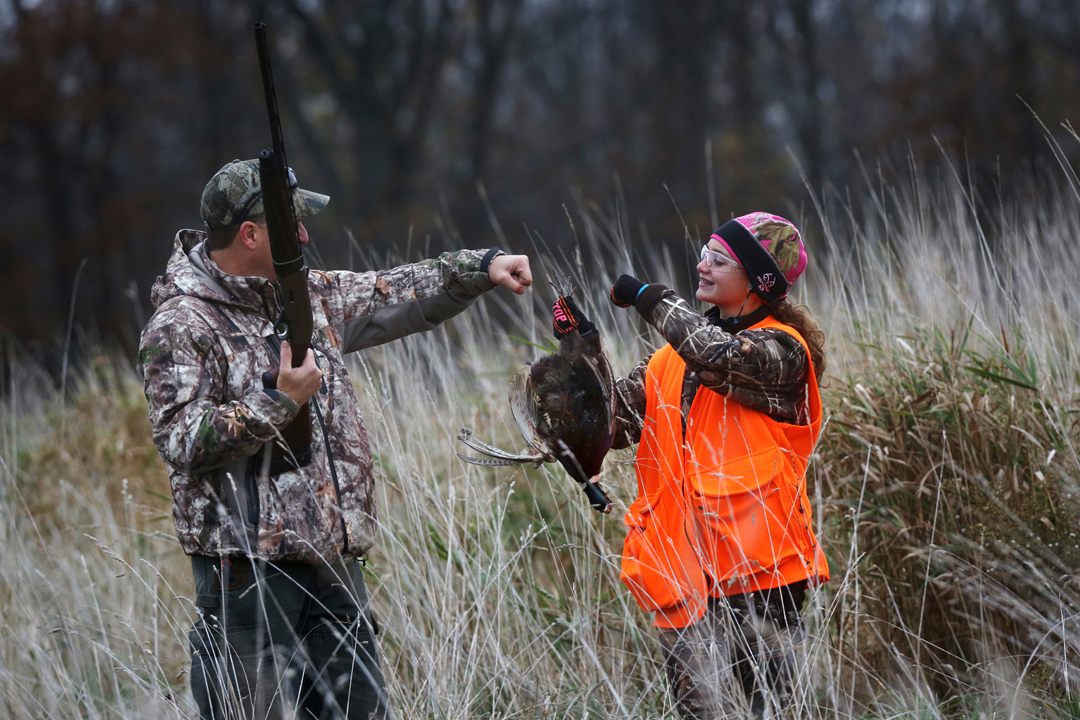 Nick Scholl, of Deerfield, left, congratulates his daughter Megan, 15, right, on bringing down her first pheasant while hunting Saturday, October 31, 2015, on land near Clinton, Mich. Megan and her sister Erika,18, were pheasant hunting for the first time as part of a youth hunt organized by Gene Merx, 79, who lives on the land. Both girls said that while hunting isn't particularly popular with their friends, they were excited to get into the sport.
From left: Toledo's Janice Monakana is hugged by Kaayla McIntyre as Mariella Santucci, center, embraces by Sara Rokkanen (1) and Jay-Ann Bravo-Harriott (11) hugs Sophie Reecher, right, after they beat Northern Illinois to win the Saturday, March 11, 2017, MAC Championship at the Quicken Loans Arena in Cleveland. Toledo won, 82-71.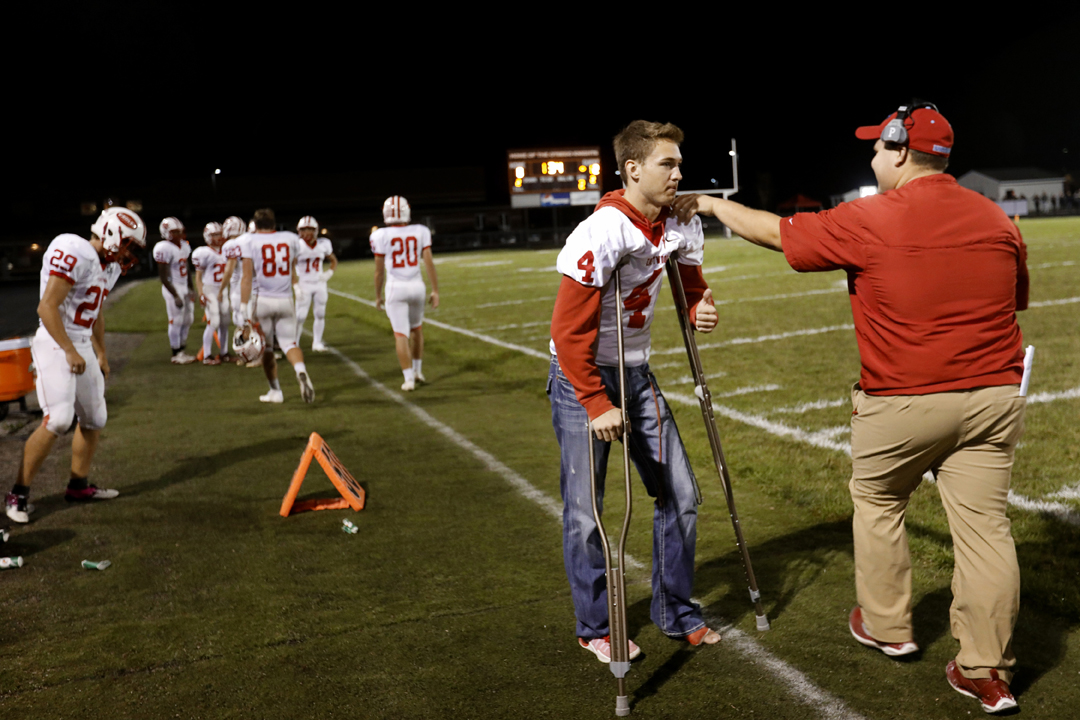 Eastwood's senior Cade Boos is embraced as his teammates head in at halftime during the Friday, October 6, 2017, at Otsego High School in Tontogany. Boos, three-sport standout, fractured his eg four plays into the team's season-opener. He is supporting his team from the sidelines during a great season. Eastwood beat Otsego, 39-0.
Indianapolis' Eric Wood (14) Christopher Bostick, center and Gift Ngoepe, right, can't make the catch off a Mud Hens hit in the bottom of the first inning during the Saturday, April 15, 2017, baseball match up at Fifth Third Field in downtown Toledo.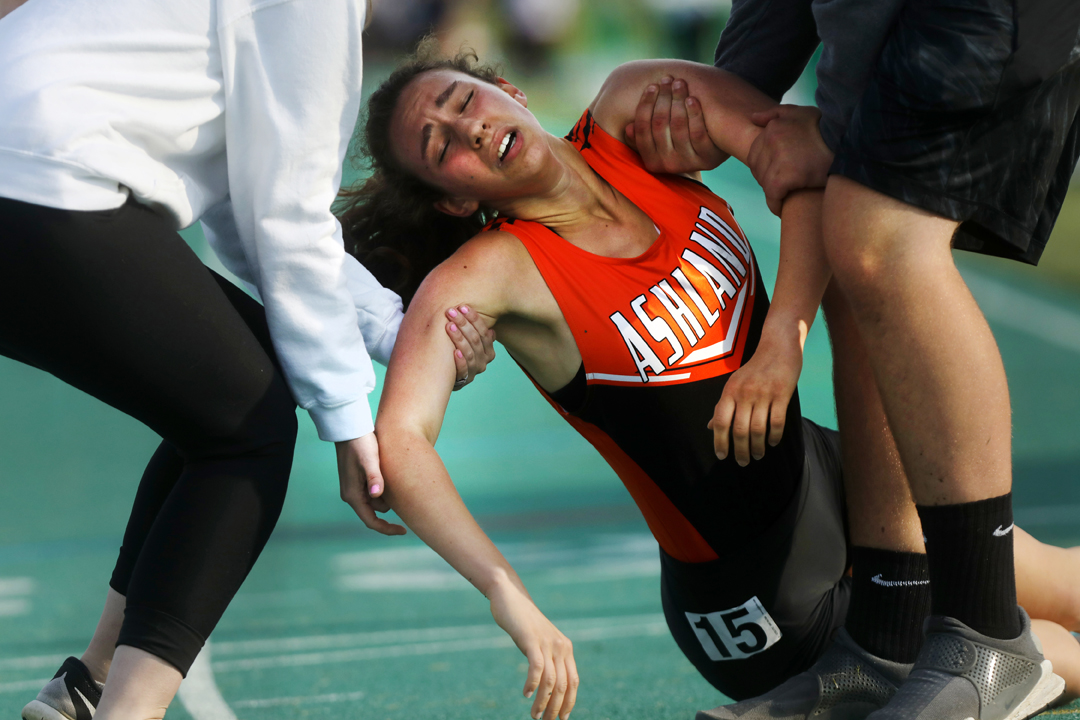 Ashland's Healther Jamieson is carried off the track after collapsing at the finish line of the 1600 Meter Run at the Division 1 Region 2 Track and Field Championship meet Friday, May 26, 2017, at Amherst Steele High School.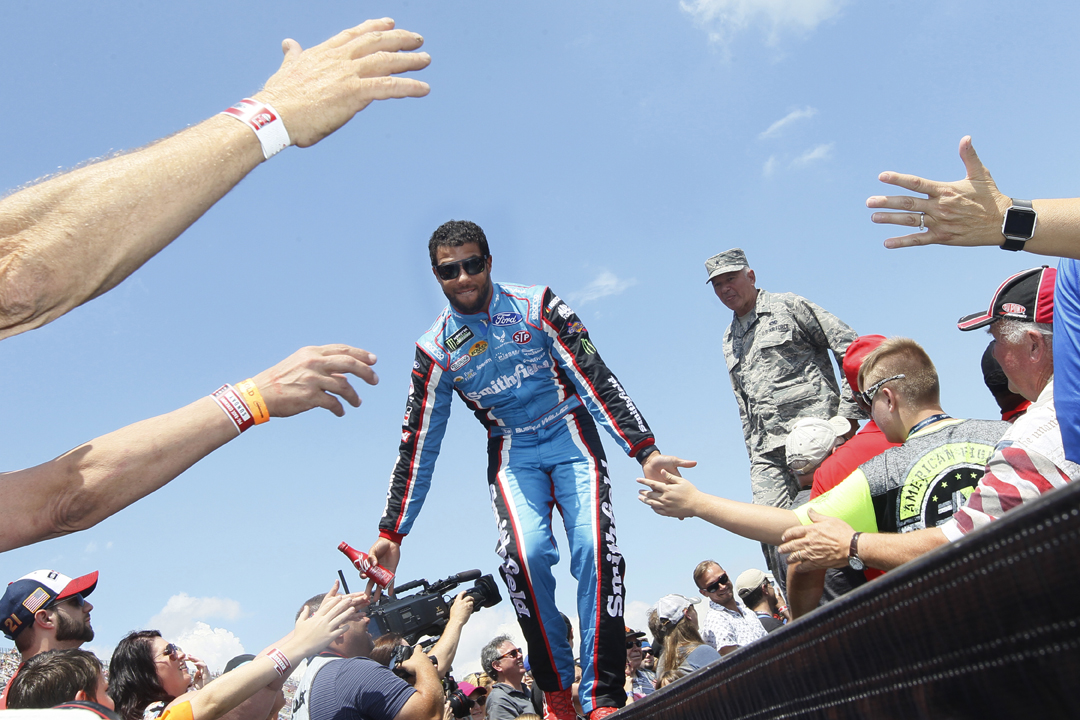 Darrell Wallace, Jr. greets fans during the driver introduction before the 49th Annual FireKeepers Casino 400 race Sunday, June 18, 2017, at Michigan International Speedway in Brooklyn, Mich. Thousands of fans turned out for the first of two NASCAR race weekends.
Erian Gambriell, 12, left, leads the pack as he and other children run through basketball drills together during the 2015 Dribbling with Dads Initiative Saturday, June 20, 2015, at the Frederick Douglass Community Center in West Toledo. About 125 children attended the 1k walk, dribbling basketballs with their parents and families through the neighborhood around the Frederick Douglass Community Center. The event was organized by the Lucas County Metropolitan Housing Authority for the fourth year of their Fatherhood Initiative Celebration, held to recognize fathers and support male involvement in children's lives.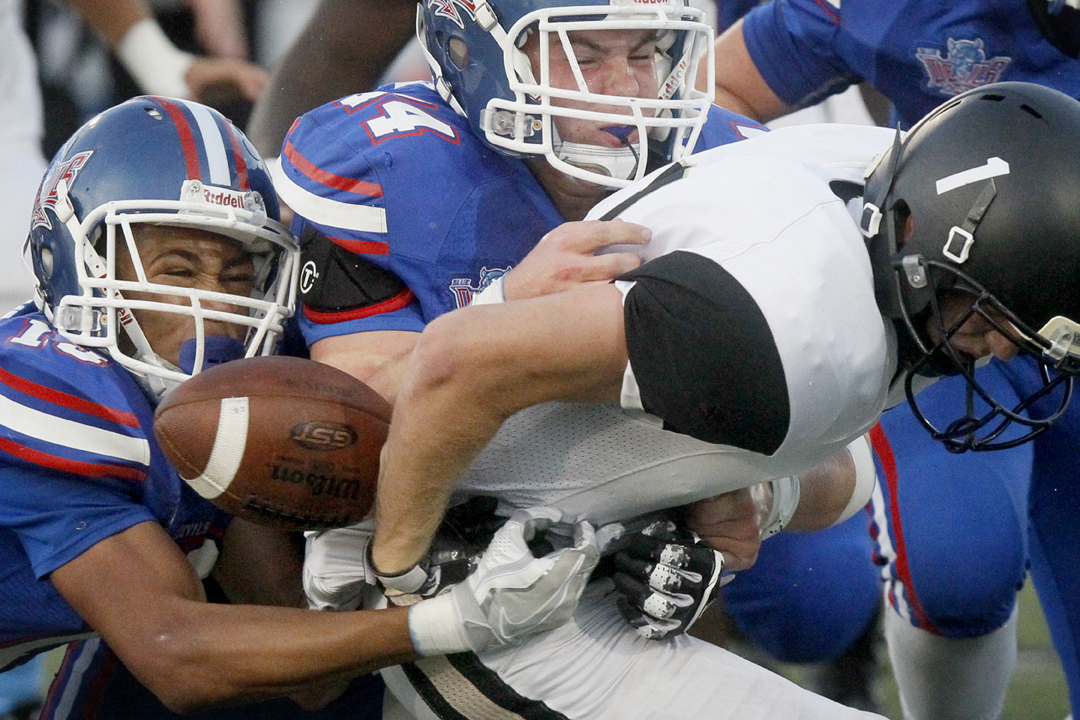 Springfield's Kevin Brake, left, and Shawn Oliver, center, force Perrysburg's Connor Meredith (1) to fumble on the tackle in the first quarter of the Friday, September 16, 2016, football match up at Springfield. Perrysburg recovered the fumble. Springfield won, 48-17.
Archbold's bench, including Brandon Miller (11), cheers after Archbold's Rigo Ramos (23) scored during the Saturday, March 18, 2017, Division III regional championship matchup against Marion at the University of Toledo's Savage Arena. Archbold won, 48-24.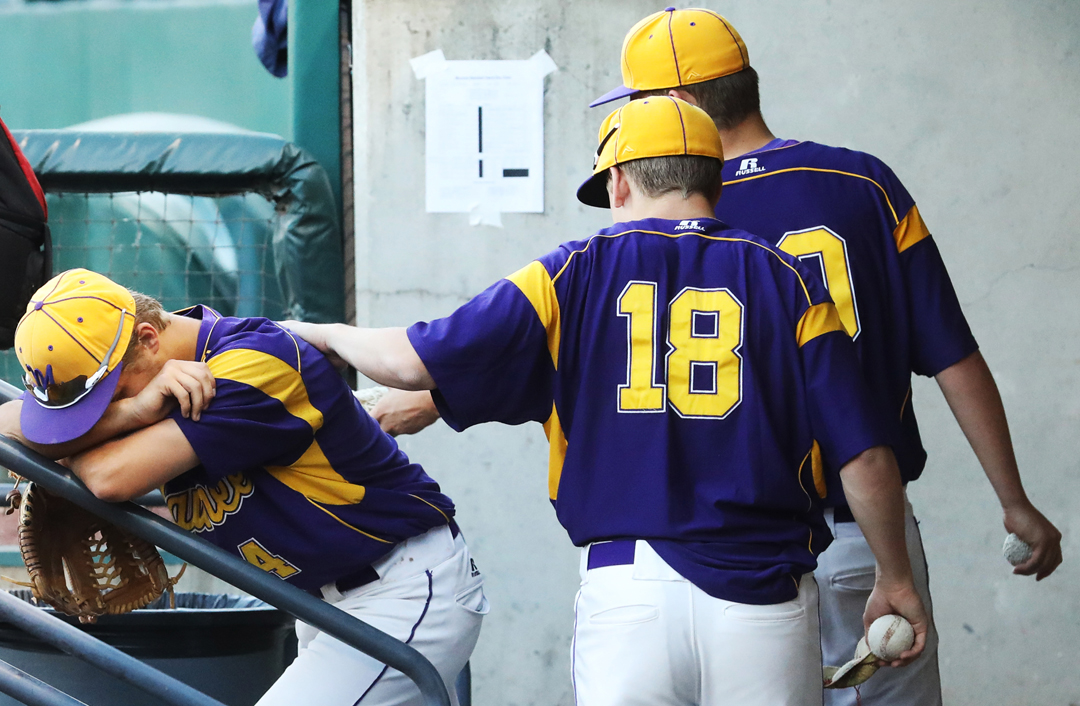 Maumee's Jordan Key (4) is comforted by teammate Bryan Pouter (18) after being beat to first in the Thursday, June 1, 2017, Division II state semifinal against Tallmadge at Huntington Park in Columbus. Tallmadge won, 4-1, ending Maumee's season.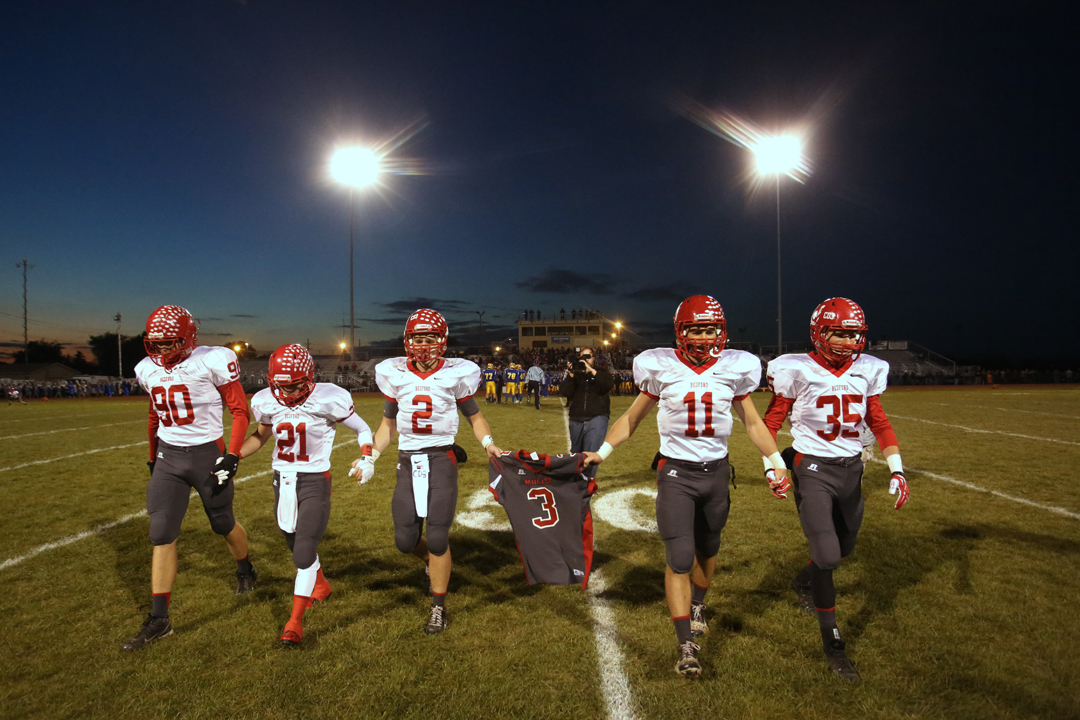 Bedford's senior Jeremy Harris (90) Lucas Mayo (21) Boss Brad (2) Alec Hullibarger (11) and Jack Maison (35) carry their teammate Colton Durbin's number three jersey off the field before the start of the Friday, Oct. 25, 2013, match up between Monroe Jefferson and Bedford. Bedford senior Colton Durbin was taken off life support Thursday after being injured in a car accident Wednesday. In addition to a moment of silence held before the beginning of the game, Colton's family and friends wore buttons, face painting and held his number aloft in his honor.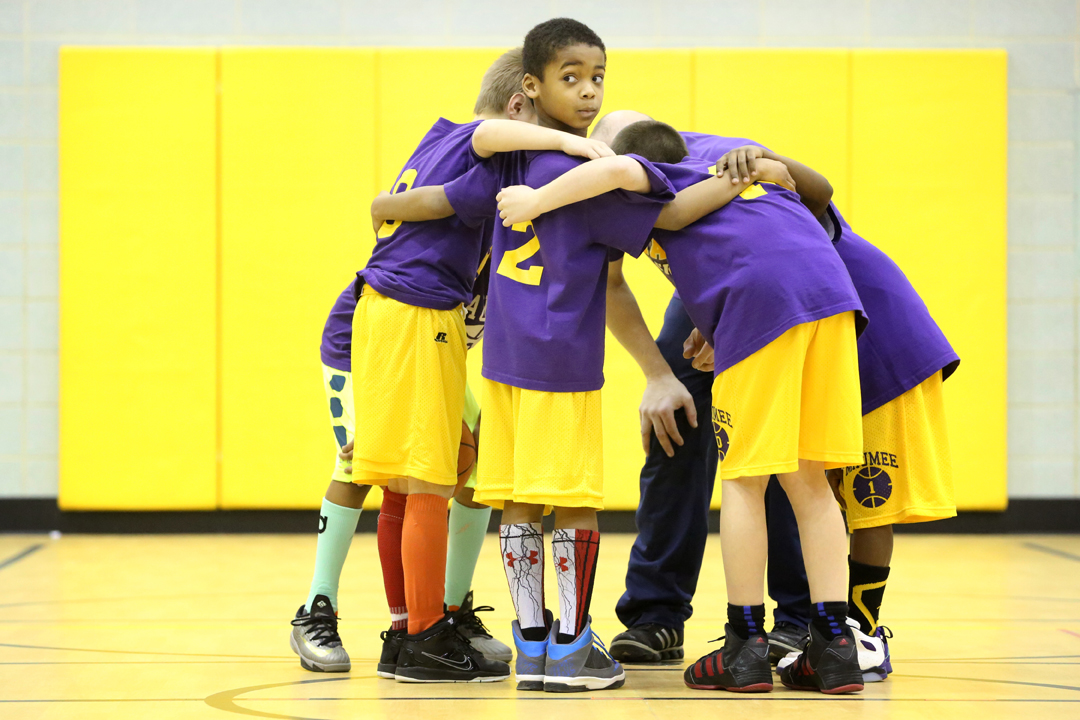 Austin Proctor, 8, center, broke from his group's huddle to look back at his opposing teammates in a scrimmage during basketball team practice at Fairfield Elementary in Maumee. The Panthers have taken to wearing colorful socks to augment their uniforms.
Brunswick's Andre Bollam-Godbot, right, keeps an eye on the Brunswick's Game Szalay in the 1600 Meter Run at the Division I Region II Track and Field Championship meet Friday, May 26, 2017, at Amherst Steele High School.
Toledo's Mikie Mahtook reacts after being tagged out at third by Columbus' Adam Rosales (15) in the Tuesday, May 8, 2018, Mud Hens baseball matchup against the Columbus Clippers at Fifth Third Field in downtown Toledo. The Mud Hens won, 2-0.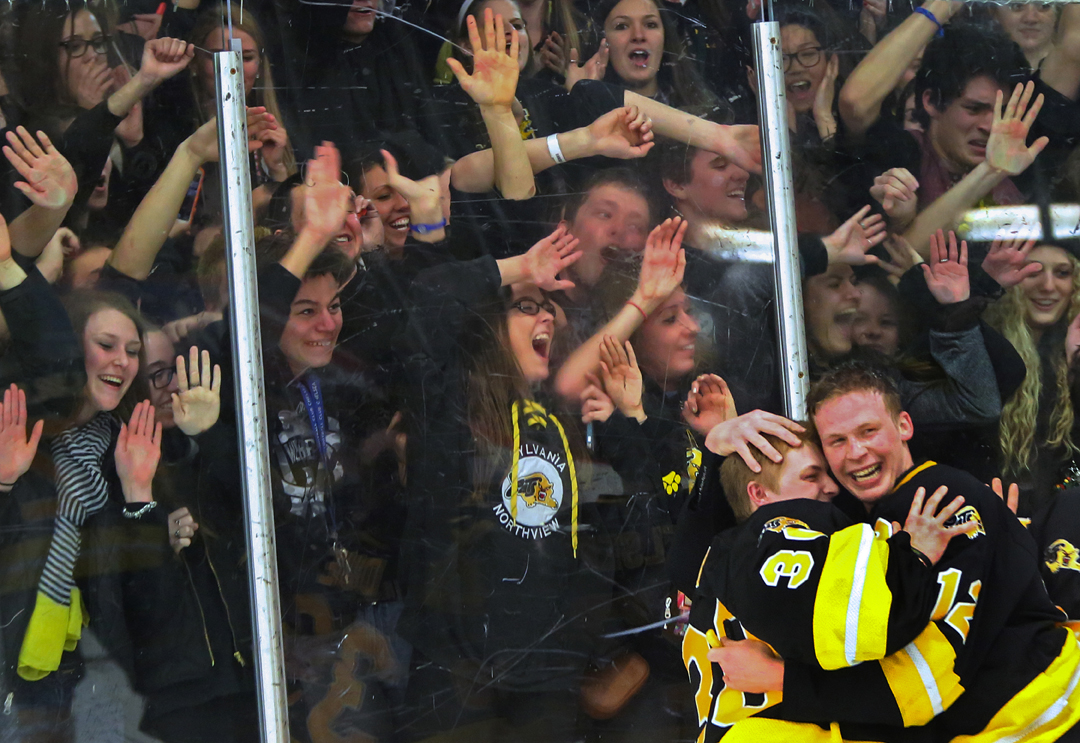 Northview's goalie Preston Due (30) embraces his teammate Cody Estrel (12) as their student section goes wild after the team clinched the Saturday, March 1, 2014, district final match up against St. John's Jesuit at Tam-O-Shanter in Sylvania. Though St. John's Jesuit scored two goals early in the first period, Northview came back to win, 4-2.
Rogers' Jordan Hayward, left, and Divontae Fitzgerald, right, go up against St. John's Karen Bolden (22) for a rebound in the first half of the Friday, December 1, 2017, men's basketball match up at St. John's Jesuit in Toledo. St. John's won, 89-52.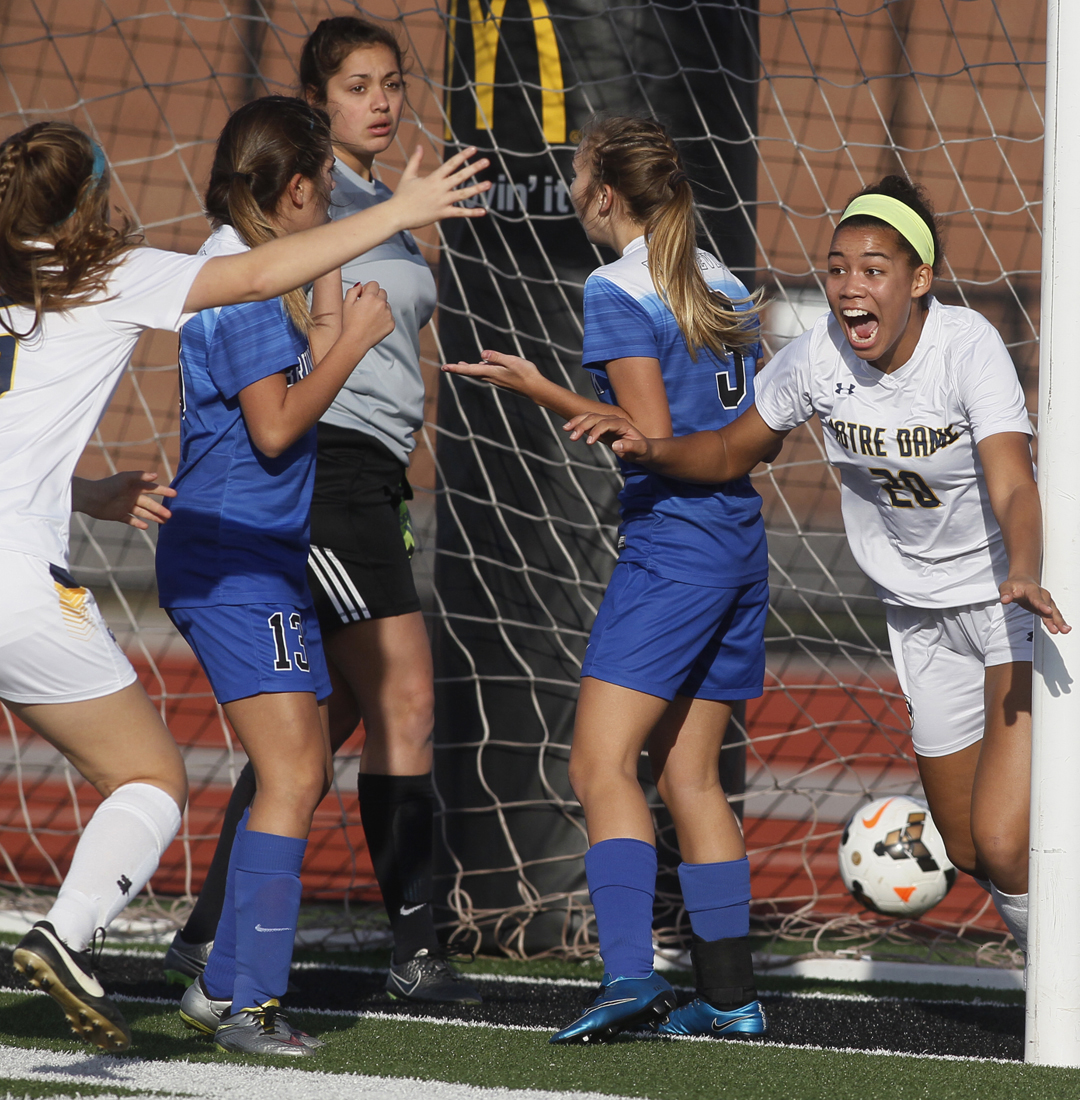 Notre Dame's Sydney Unverferth, left, rushes to cheer Lexa Bauer (20) after she scored against Brunswick's Cece Peer (13) keeper Allison Mysliwiec (5) and Emily Kazimore (3) in the second half of the Saturday, November 5, 2016, Division I Region II Championship soccer match up against Brunswick at Perkins High School in Sandusky. Notre Dame won, 1-0.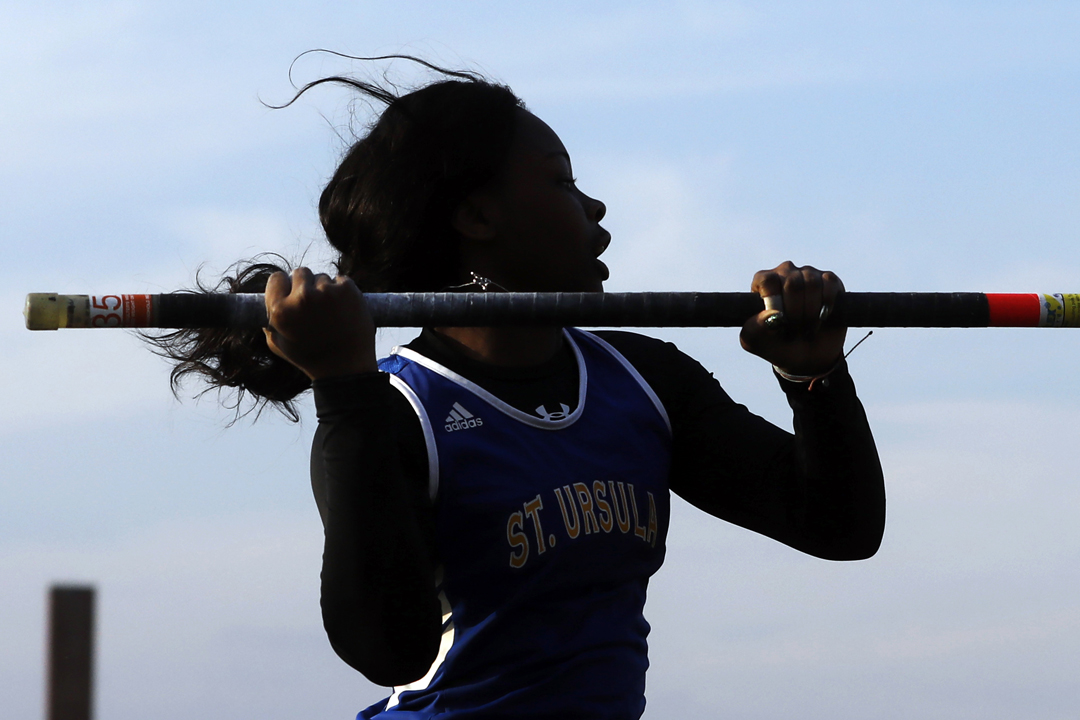 St. Ursula's April Galloway attempts nine feet, six inches in the pole vault Friday, April 27, 2018, at the Nancy Erme Relays track meet at Whitmer High School.
Anthony Wayne's Nick Schneider, center, is cheered after scoring in the bottom of the sixth inning in the Division I regional baseball championship matchup against Strongsville at Bowling Green State University's Steller Field. The Generals won, 10-2, to advance to the state tournament. This will be their first trip to the state baseball Final Four.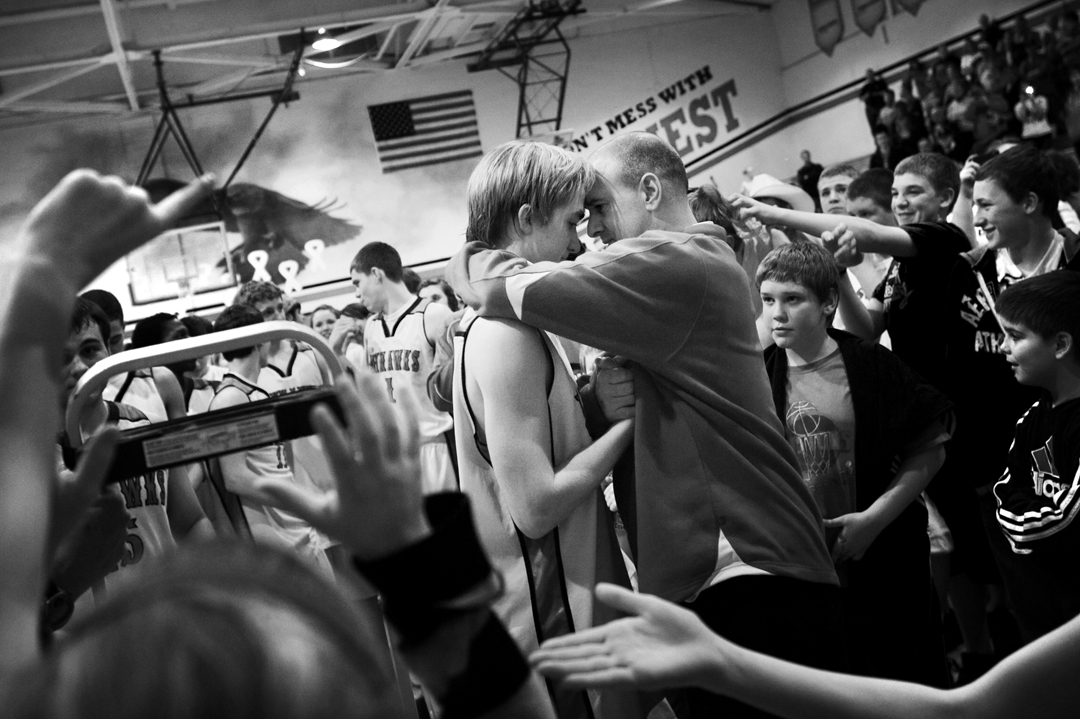 Vandercook Lake's senior Chad Marriott, is congratulated after his team's win of Thursday night's home game against East Jackson. The Jayhawks were able to overcome an early deficit to pull ahead and win a share of the Cascades Conference championship for the first time since their 1969-70 season. They won, 53-45.